Our SMALL GROUPS are currently on pause due to the COVID-19 pandemic,
but stay tuned for news on our new curriculum for the 2020-21 year. 
During 2019-20, Small Groups had focused on The Prophecies of Daniel And Revelation
Small Groups worked through two books by author Seth J. Pierce. The first book was the Prophecies of Daniel for Teens and the second book was the Prophecies of Revelation for Teens. Even though the books are targeted to a teen audience, people of all ages enjoyed the author's dynamic approach to the books of Daniel and Revelation.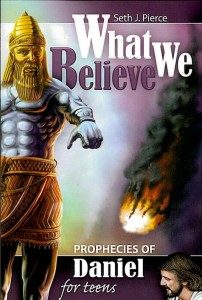 ​Learn more about the Prophecies of Daniel for Teens​
​There's a lot of strange stuff going on in Daniel's book. First comes the giant statue made of different metals, which is smashed to smithereens by a gigantic rock. Then the four beasts: a lion with eagle's wings, a humpbacked bear, a leopard with four wings, and some kind of indescribable beast with ten horns and iron teeth. If animals aren't confusing enough, Daniel uses a lot of weird words. What is an "abomination of desolation"? What kind of language is "mene, mene, tekel, upharsin"? Besides, Daniel wrote his book a long time ago, so does it really have anything to do with us today? Can Daniel really tell us what to expect in the future? If you've ever asked these questions, the Prophecies of Daniel for Teens is a perfect book for you.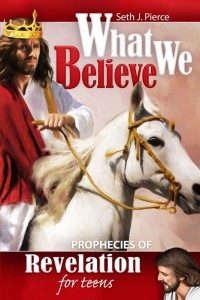 Learn more about the Prophecies of Revelation for Teens​
​Sometimes it's easy to forget that the whole book of Revelation is about Jesus—not horns, bowls of wrath soup, angels, or beasts. All these images are selected by Jesus to let us know something about Himself. Even entities as hideous as the beasts reveal to us how God thinks about the oppressive powers of the world—and what happens to them in the end. Yet we can find ourselves sidetracked trying to match up dates and current events of every little detail of this book and miss the big picture: Jesus Christ.
Jesus is quite literally the beginning, the middle, and the end of Revelation—and world history. Author Seth Pierce says, "Wherever your studies take you from here my prayer is that you will always find an ever brighter picture of Jesus and how much He loves you."
. 
GENERAL Schedule: 
The small group study includes a book for each participant. Please talk to Pastor Honey Todd if you need more books. The study will take place from September to May with the following general schedule:
September to November - Prophecies of Daniel
~ Break over Christmas & New Year ~
January to May - Prophecies of Revelation
FIND A SMALL GROUP IN YOUR AREA
The following small groups are meeting in locations throughout Calgary. If you would like to host a group, or would like guidance on finding a small group to join, please connect with Pastor Honey.
Mondays
12:30-2:30pm, Women's Group at Mariela Gorbenko's house in Arbour Lake. Phone 403-764-4543
Wednesdays
7:30-9pm, Pastor Todd's house in Ranchlands. Phone 403-239-1857
Thursdays
New Group - looking for participants - 7:30pm, Parada/Suarez/Melgar house in Cochrane. Phone 587-576-6234‬. 
Fridays
New Young Couples Group - looking for participants - 7pm, Moves around to different homes in Calgary. Click to email Melissa.  
7-9pm, Youth/Young Adult Vespers at Pastor Todd's house in Ranchlands. Phone 403-239-1857
7pm, Rotating between Miranda's house and Cordazzo's houses in Tuscany. Phone 403-668-7058 or 403-547-1662
7:30pm, Raymond and Sheila Smith's house in Valley Ridge. Phone 403-663-9674
Master Guide Outdoors small group, following the Master Guide curriculum - Ohlmanns house in Springbank. Phone 403-354-1434
Saturdays
4pm, Jonas and Sheila Cordazzo's house in Tuscany (In Portuguese). Phone 403-547-166