A Thoughtful Hour - Tracing the final footsteps of jesus
"It would be well for us to spend a thoughtful hour each day in contemplation of the life of Christ. We should take it point by point, and let the imagination grasp each scene, especially the closing ones. As we thus dwell upon His great sacrifice for us, our confidence in Him will be more constant, our love will be quickened, and we shall be more deeply imbued with His spirit."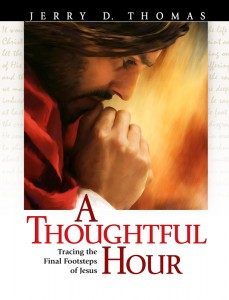 As precious as the story of Jesus is to each of us, our daily lives keep us so busy that it's hard to carve out the time we would like to spend learning about Him. It's hard to find an hour--a thoughtful hour--reading and studying the gospel accounts of His life.
That's why this little book, A Thoughtful Hour, by Jerry D. Thomas exists. It is designed to make the thoughtful hour easier, to give a little structure and focus to a study of the life of Christ. Whether you work through the pages as part of a study group or on your own, you will appreciate the fresh approach used to tell the gospel story. 
Schedule: 
The small group study includes a book each participant. The study will take place from January to May with the following schedule:
January 6 to March 17 -  Chapters 1-10
~Three week break~
April 7 to May 19 - Chapters 11 - 15
FIND A SMALL GROUP IN YOUR AREA
The following small groups are meeting in locations throughout Calgary. If you would like to host a group, or would like guidance on finding a small group to join, please connect with Pastor Honey.
Mondays
12:30-2:30pm, Women's Group at Mariela Gorbenko's house in Arbour Lake. Phone 403-764-4543
Wednesdays
7:30-9pm, Corkum House in Evanston. Phone 403-275-5569
Thursdays
New Group - looking for participants - 7pm, Brent and Cherie Wilson's house in Cochrane, 88 Sunrise Terrace, Cochrane. Phone 403-401-4950 or email Brent. 
Fridays
New Group - looking for participants - 7pm, Melissa and Roberto, 2200 Woodview Drive SW. Click to email Melissa.  
7-9pm, Youth/Young Adult Vespers at Pastor Todd's house in Ranchlands. Phone 403-239-1857
7:30pm, Raymond and Sheila Smith's house in Valley Ridge. Phone 403-663-9674
7pm, Rotating between Miranda's house and Cordazzo's houses in Tuscany. Phone 403-668-7058 or 403-547-1662
Saturdays
4pm, Jonas and Sheila Cordazzo's house in Tuscany (In Portuguese). Phone 403-547-1662