Worship With Us
About Us
We are a church committed to building a thriving community of grace that seeks healthy healing relationships with God and others. Our community cares for others through practical ministries of compassion as a natural response to God's grace.
Due to Covid-19 Public Health Guidelines, In-Person Services are by Registration Only:
Registration links for the upcoming weekend's service will be sent to our church email list. Our current capacity is limited to 40 people, including service participants. Our service will begin Saturday mornings at 10am with online classes designed for specific age groups. Then at 11am, will will have our main worship service both online and with in-person registrants. Video conferencing links will be in your church email and in-person registered attendees will meet at Chinook Winds Adventist Academy. 
Sabbath School
Saturdays 10:00 am - 10:50 am
classes from infants to adults
main Worship Service
Saturdays 11:00 am
---
CWAA Substitute Teachers
Our local church school in Calgary, Chinook Winds Adventist Academy, is looking to replenish its list of substitute teachers.  Teachers are required for all grade levels and should possess either an interim or permanent teaching certification issued from Alberta Education. For further information please contact the Principal, Bruce Fillier at 403-286-5686 or email at bfillier@cwaa.net 
Sign-up for Alberta Conference eNews
The September issue of Alberta Adventist News features Mountain View's Investiture service, the MGO backpacking trip, Mountain View's summer baptisms, and the Grade 5 garden featured in our newsletter: Mountain View Connections. If you would like to subscribe to the e-News and not miss any event or information that may be of interest to you click here to sign-up. 
Watch Alberta Camp Meeting On-Demand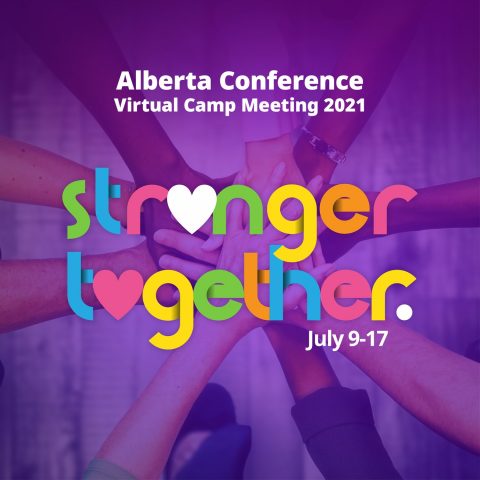 Even though the live events are over, the catalog of programming from Alberta's Camp Meeting is still available on demand. Stir up your day with exciting, powerful, and encouraging programs! With a theme of Stronger Together, this year's virtual camp meeting featured dynamic programming for all ages. Visit the website: www.albertavirtualcampmeeting.ca. 
---
EXPLORE Online BIBLE STUDIES

Study online with us through our self-paced Discover Bible School programs: 
Discover Bible Guides - a simple, easy-to-use study that answers some of life's challenging questions.

Focus on Prophecy - Bible prophecy comes to life in these beautifully illustrated study guides.

Kidzone - Biblical answers to all of the common questions that kids have, such as what it will be like when Jesus comes again.
---
CHURCH BULLETInS
upcoming worship Speakers
Oct 2 - Oliver Johnson
Oct 9 - Pastor Julio Davila
Oct 16 - Tenisha Tavares, Voice of Prophecy
---
---
TEMPORaRY Meeting place: 
CHINOOK Winds Adventist Academy
We are currently meeting at Chinook Winds Adventist Academy (10101 2 Ave SW, Calgary, AB) until we return to our permanent meeting place at a later date. In-person services are by registration only, check your church email for regular updates and links. 
Our normal meeting place is on 'pause' during the pandemic: 
Currently we are not able to meet in our normal meeting space due to the pandemic. When we resume church services at our regular meeting place, we will be meeting at the Advent Lutheran Church located at 11 Scenic Acres Gate NW, Calgary, Alberta. 
---