---
Open House: Thursday, February 13, from 5-8 pm
Our Open House event is designed for interested families to come and meet our amazing teachers, tour the school and check out the learning that takes place at CWAA.  Families will also learn about the vision and mission of Adventist education at CWAA.  There will be refreshments and plenty of people to meet!  Invite a new family to come and check out CWAA!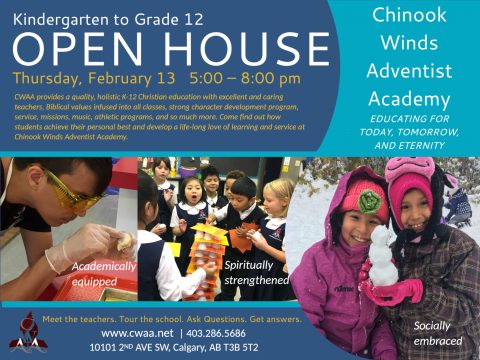 Friend Day: Friday, February 14 from 8:15 am - 1:20 pm 
Students, invite your friends to come to school for the day! Grades K to 12 are welcome and we look forward to meeting them!  Contact the school office at 403-286-5686 to register.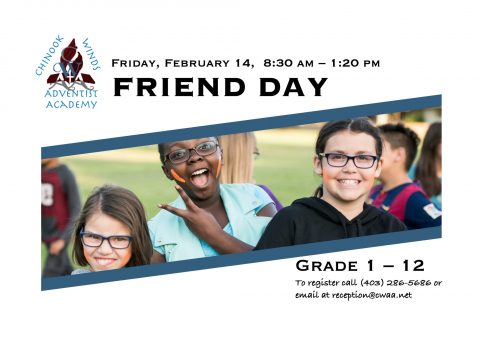 Alberta Conference Women's Retreat: April 17-19
The Alberta Conference Women's Retreat will be held at the Cambridge Hotel in Red Deer. The theme is "Better Together" with guest speaker Dilys Brooks, the Chaplain at Loma Linda University. A WARM fund is available to assist ladies with financial difficulty to help cover their registration cost. Applications for WARM funds can be made to Melanie Gilbert Chiu, Barbara Carefoot, or Honey Todd.  Deadline for applications is February 20.  If you have financial difficulties please talk to us.
Youth South Africa Mission Trip: May 10-24, 2020
The Alberta Youth are headed to South Africa! The  mission will involve building a church, conducting evangelistic series, Vacation Bible School and much more. They will also be doing sightseeing to historical places.
Dates for this mission is May 10-24, 2020.
Cost is only $2499
If you are interested in attending. Please register at https://www.ultracamp.com/info/sessiondetail.aspx?idCamp=145&campCode=&idSession=239844