Worship With Us
About Us
We are a church committed to building a thriving community of grace that seeks healthy healing relationships with God and others. Our community cares for others through practical ministries of compassion as a natural response to God's grace.
May 28 - Join us for Church in the Park at Bowness Park!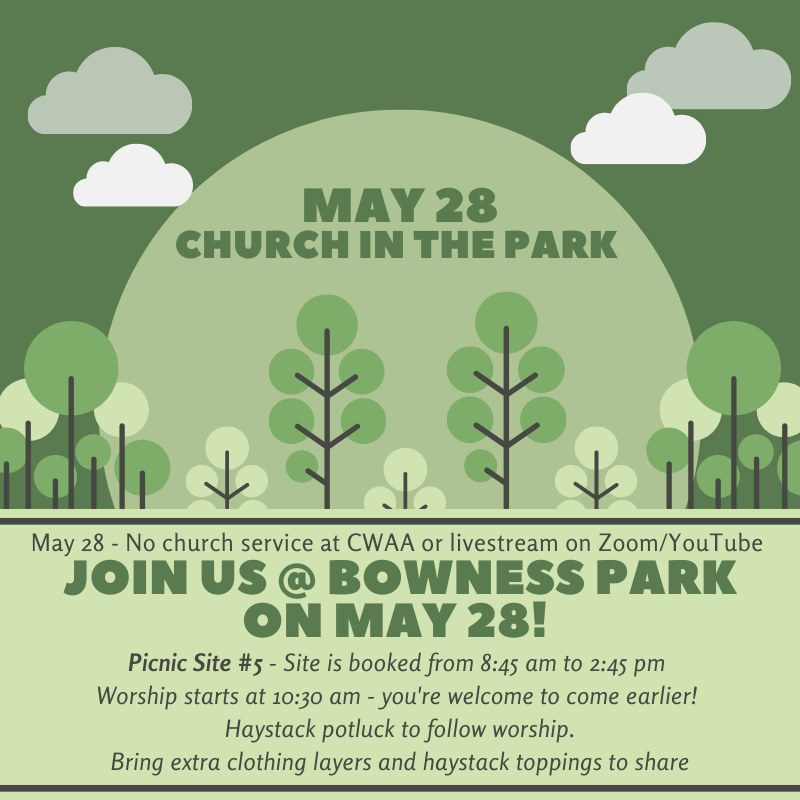 Here are the details for Saturday, May 28: 
Bowness Park, Site 5, 8:45 a.m. – 2:45 p.m.
·         Come early so we can use the spot the full time we are there.
·         Bring blankets and change of clothes in case weather changes.
·         NO SABBATH SCHOOL
·         Worship from 10:30 AM to 11:30 AM.
·         After worship, HAYSTACK LUNCH
·         Free time after lunch
·         In the event of a major rainstorm, we will opt out for a Zoom Worship Service.
Please note, we will not be meeting at CWAA on May 28, instead we hope you join us at Bowness Park. 
Normally, our Sabbath School classes are meeting in person from 10:00 am to 10:50 am. Our main worship service is offered in-person at CWAA and online via YouTube livestream and Zoom. Video conferencing links will be in your church email and in-person attendees meet at Chinook Winds Adventist Academy. 
Sabbath School
Saturdays 10:00 am - 10:50 am
classes from infants to adults
main Worship Service - In-Person and online
Saturdays 11:05 am
---
Alberta Camp meeting July 15-23, 2022
We're excited to have an in-person camp meeting this year! The theme will be forging ahead as we hold on to our faith and raise new leaders that envision the expanding of the Kingdom of God as we strengthen our communities and families. More info on registration is coming soon. 
---
EXPLORE Online BIBLE STUDIES

Study online with us through our self-paced Discover Bible School programs: 
Discover Bible Guides - a simple, easy-to-use study that answers some of life's challenging questions.

Focus on Prophecy - Bible prophecy comes to life in these beautifully illustrated study guides.

Kidzone - Biblical answers to all of the common questions that kids have, such as what it will be like when Jesus comes again.
---
CHURCH BULLETInS
upcoming worship Speakers
May 28 - CHURCH IN THE PARK: Pastor Julio Davila
June 4 - Jerry Shiel
June 11 - Gerry Chipeur
June 18 - Mountaineers Adventurer and Pathfinder Clubs' Investiture Service
---
---
CURRENT Meeting place: 
CHINOOK Winds Adventist Academy
We are currently meeting at Chinook Winds Adventist Academy (10101 2 Ave SW, Calgary, AB). Check your church email for regular updates and links to our online service. 
---