TEEN YOUTH RALLY 2019 - April 5-7, 2019
You don't want to miss this year's Alberta Conference Teen Youth Rally at Foothills Camp! The theme this year is called "Disrupt" the idea that God has called us to healthy disruption, that will bring about leading change in the world. Disrupting the status quo to change the world and impact lives for the better. Check-in starts at 6:00 PM on Friday evening. Registration is $55 for the entire weekend. Register by clicking here.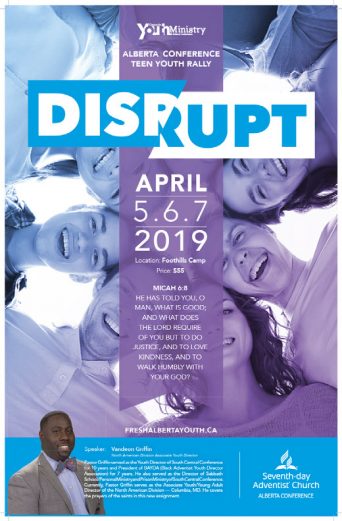 Burst the Bubble -  Compassion Ministries Conference
The Alberta Conference invites you to take your calling to new heights! On May 4-7, 2019, the Alberta Conference Compassion Ministries Department (ACCME) aims to equip members, ministry leaders, directors, lay ministers and pastors to confidently respond to a disaster. ACCME seeks to empower communities, churches & families to plan for a crisis and learn effective ways to spread the Everlasting Gospel. Keynote speakers include Dr. Sung Kwon, ACS Director for NAD; plus, ADRA Canada. The conference will take place in Calgary on May 4-7. To register contact Pastor David Guzman @ 780.607.1849.
SAGEAlberta Convention - May 2-5, 2019 Join the SAGEAlberta Convention at College Heights Church. The theme is "Courageous Boldness in a Hypersensitive Age," with Barry Bussey, Guest Presenter, Legal Council with the Canadian Council of Christian Charities. We especially invite those who are 50+ who have never attended a SAGE Convention to register for the outing and banquet in addition to the regular scheduled programs.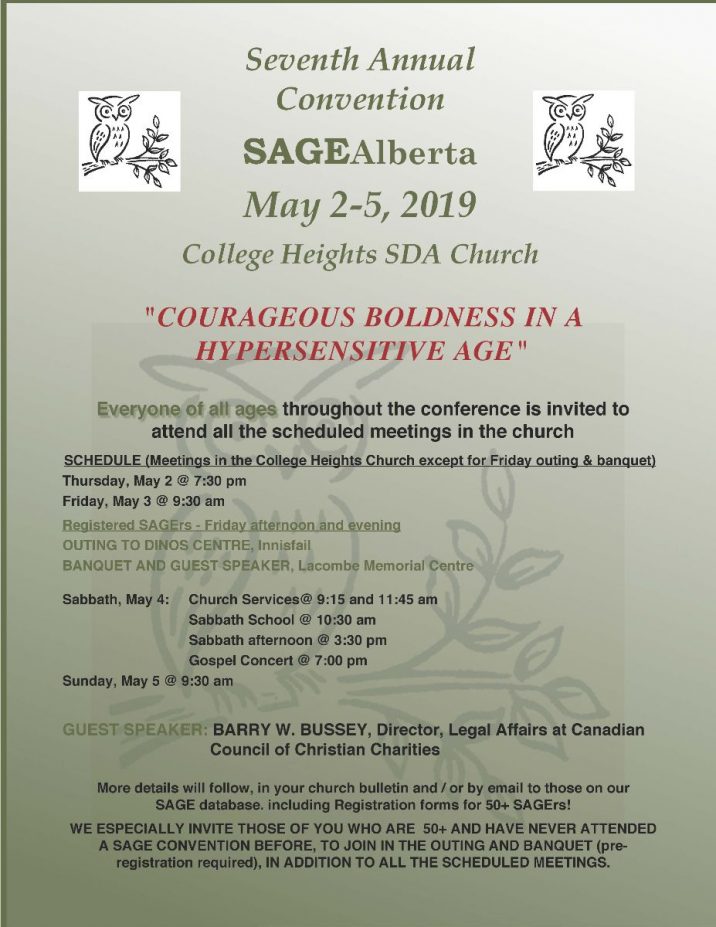 Register for Summer Camp 2019!
Foothills Summer Camp 2019 is quickly filling up with excited new camper registrations. This year's theme entitled, My Lighthouse, focuses on Jesus as our Protector and Guide. The key Bible verse is Psalm 46:1, "God is our refuge and strength, a very present help in trouble." Go to www.foothillscamp.ca/summer-camp and register today to reserve your spot and to pick your activities before they fill up. We have something for everyone including horses, water-sports, archery, high ropes, swimming, crafts, rocketry, BMX, and so much more. Register before May 31 to receive a camp gift. For more information about summer camp or for help registering online, please email dfalesau@albertaadventist.ca or phone (403) 342-5044, ext. 210.