---
CWAA ANNUAL CHRISTMAS CONCERT
Please join us for the annual CWAA Christmas Concert entitled "The Next Noel" in the CWAA Gymnasium, this Thursday, December 12 at 7:00 pm. The concert will feature singers and narrators from the CWAA Elementary Choir (K-6), the Grade 5 and 6 Bands, the Concert Band (Gr. 7-12) and the Concert Choir (Gr. 7-12).
"3D" REVOLVING LOAN PLAN FUNDRAISER
CWAA's fundraising project is to reduce the debt in the revolving loan and help fund the required replacement of our hot water-heating boiler system. The school is in dire need of a new boiler/heating system. For every DOLLAR that gets DONATED by Dec 15, 2019 towards the revolving loan, the Alberta SDA Conference will DOUBLE that amount up to $100,000! Learn more and donate online at CWAA.net.
Burman University Job Opportunities
Burman University invites applications for the following positions:
 -  Full-time Tenure-track Faculty Position in Psychology
 -  Full-time Student Life Advisor
Please visit their website https://www.burmanu.ca/humanresources/jobopportunities for details.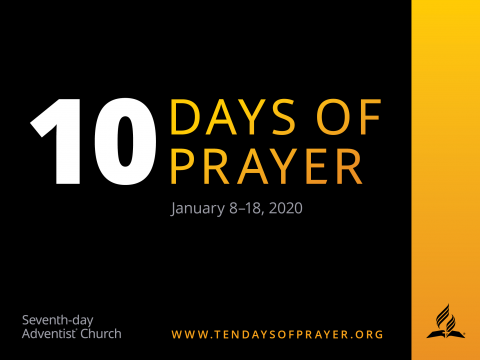 Below you will find resources for the worldwide Ten Days of Prayer being held from January 8 to 18. Our church will have a special service on January 18 to celebrate the end of this prayer focus - more details to come. 
Find more information, community groups and resources from previous years on the Ten Days of Prayer website.