Worship With Us
About Us
We are a church committed to building a thriving community of grace that seeks healthy healing relationships with God and others. Our community cares for others through practical ministries of compassion as a natural response to God's grace.
Our Sabbath School classes are meeting in person from 10:00 am to 10:50 am. Our main worship service is offered in-person at CWAA and online via YouTube livestream and Zoom. Video conferencing links will be in your church email and in-person attendees meet at Chinook Winds Adventist Academy. 
Sabbath School
Saturdays 10:00 am - 10:50 am
classes from infants to adults
main Worship Service - In-Person and online
Saturdays 11:05 am
---
Stay tuned for details on the upcoming Teen Youth Rally at Foothills Camp November 25-27: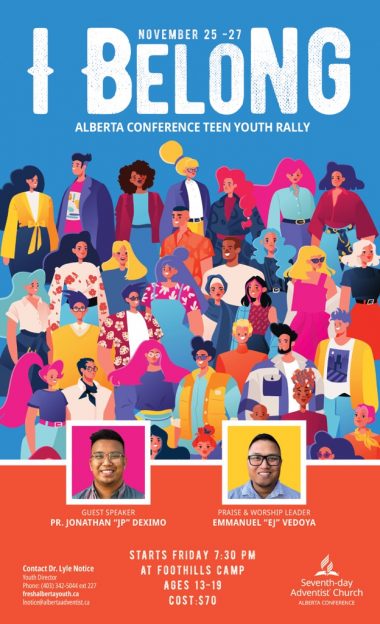 ---
EXPLORE Online BIBLE STUDIES

Study online with us through our self-paced Discover Bible School programs: 
Discover Bible Guides - a simple, easy-to-use study that answers some of life's challenging questions.

Focus on Prophecy - Bible prophecy comes to life in these beautifully illustrated study guides.

Kidzone - Biblical answers to all of the common questions that kids have, such as what it will be like when Jesus comes again.
---
CHURCH BULLETInS
upcoming worship Speakers
Oct 8 - Pastor Julio Davila
Oct 15 - Elder Don Corkum
Oct 22 - Pastor Julio Davila
---
---
CURRENT Meeting place: 
CHINOOK Winds Adventist Academy
We are currently meeting at Chinook Winds Adventist Academy (10101 2 Ave SW, Calgary, AB). Check your church email for regular updates and links to our online service. 
---