The Mountaineers Pathfinder Club meets during the school year from September through June, with an Alberta-wide camporee event in the summer. The club meets one weekend a month at Chinook Winds Adventist Academy on Saturday afternoons from 1:30 pm to 3:30 pm and on Sunday mornings from 10am to noon. 
Calendar of Events
View our calendar for the 2023-2024 year.
REGISTRATION
Registration is open for the Mountaineers Pathfinder Club. Please reach out to the club director if you would like to join and complete the following form to process your registration. 
Who are Pathfinders?
Pathfinders are a worldwide organization of young people sponsored by the Seventh-day Adventist Church, though young people of any religious persuasion, or none at all, are welcome and encouraged to join the organization.
Pathfinders offer a wide range of activities including:
Camping & camping/survival skills
Grade-appropriate leadership training
Activities promoting community pride & involvement through outreach activities such as collecting food for the disadvantaged, visiting and encouraging the elderly, and more
Interactive training in a variety of recreational, artistic, nature, conservation, vocational, and outreach areas, with awards (honors) given for successful completion of the interactive training modules
Personal care and encouragement by a caring staff member
Special event for 2024 - International Pathfinder Camporee in Gillette, Wyoming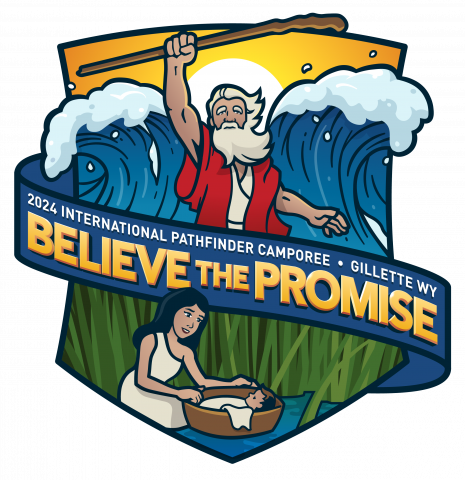 The International Pathfinder Camporee is held every 5 years. 55,000+ Pathfinders from over 100 countries come to play, share, learn and worship together. It's an opportunity of a lifetime; sure to strengthen your relationship with God.
These events have become a leadership and spiritual right of passage for youth and adults. They have also become a gathering place for world leaders who understand the importance of this generation and their value to the mission of the Seventh-day Adventist Church.
The dates for the 2024 International Pathfinder Camporee are August 5-11, 2024 in Gillette, Wyoming.
The 2024 Believe the Promise Camporee will highlight the exciting story of Moses and Miriam in an exciting production each evening as well as offer various honors and activities that Pathfinders from around the world will enjoy.
Learn more on the International Pathfinder Camporee website.